Diversity in health care remains a problem. Northeastern's partnership with a historically Black university in Charlotte aims to fix that.
In Charlotte, North Carolina, lack of diversity is an issue in nursing and health care more generally. Northeastern University, through a partnership with Charlotte-based historically Black university Johnson C. Smith University, hopes create a pipeline of more diverse talent.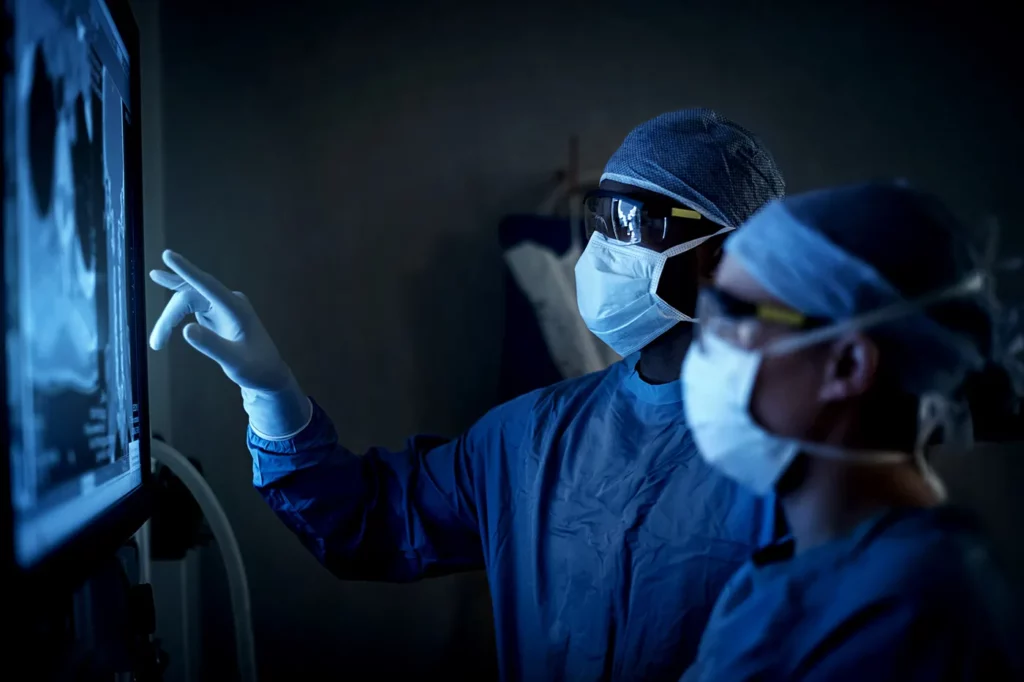 A new partnership between Northeastern's campus in Charlotte, North Carolina, and Johnson C. Smith University, the city's only historically Black university, aims to address a significant challenge in the health-care system nationwide: a lack of diversity.
Finalized in December, the partnership creates opportunities for JCSU students to get their foundational pre-health education at JCSU before transitioning into Northeastern's accelerated bachelor's of nursing program, master's of public health or master's applied behavioral analysis programs.
By combining the strengths of both institutions, the hope is to create a better pipeline of diverse talent in nursing, specifically, and health care in general.
"Nursing outcomes and patient outcomes show that having a workforce that reflects the patient population is conducive to better outcomes and better trust within the health-care space," says Angela Hosking, CEO and regional dean of Northeastern's Charlotte campus. "We thought a comprehensive partnership agreement between us and Johnson C. Smith made beautiful sense."
Lack of diversity is a broader challenge in U.S. health care, but in Charlotte, a city with a 35% Black population, the issue is acute.
According to the Charlotte Regional Business Alliance's 2022 Racial Equity Report, Black people are represented in the health-care field, but the majority are home health aides, who earn less than $20,000, the lowest entry-level salary among home health-care service providers. Meanwhile, other professional areas in health care, like nursing, are dominated by white people.
Education and finances remain barriers for people of color entering health-care work, something the Northeastern and JCSU partnership aims to address.
"We do not have undergraduate courses [on Northeastern's Charlotte campus], so we are looking for that foundational STEM rigor that is needed to help them be successful," Hosking says. "[JCSU is] bringing that rigor and that support and the underrepresented minorities that we want to elevate into the profession."
The accelerated bachelor of science in nursing program anchors Northeastern's Center for Health Sciences in Charlotte and serves as a potential bridge for JCSU students who want to continue or complete their bachelor degree.
"We've been here servicing individuals who have been excluded from higher education since 1867, so the opportunity to continue to grow the potential of that student base for us is very exciting," says Melita Pope Mitchell, associate vice president of academic affairs at Johnson C. Smith University.
Northeastern is the only university in North Carolina that has been approved to offer a degree-completion track, which means JCSU students with 62 credits or more who haven't yet received their bachelor's degree can transition into the four-semester, 16-month nursing program.
On top of its programmatic offerings, Northeastern is also forming partnerships with Charlotte area health-care facilities that can offer scholarships and employment opportunities to students while they're in the program.
JCSU, with its many long-standing community relationships, also provides Northeastern and its students new opportunities to form connections with people and organizations it might not otherwise have access to.
"Developing that relationship between JCSU and Northeastern improves our ability of making stronger connections in those areas and providing opportunities for our students to learn in those areas, because they're going to need to work in those areas once they come out of school," says Gibbie Harris, a visiting assistant clinical professor at Northeastern's Charlotte campus.
Harris spent more than 30 years working in public health, serving as health director in three counties, including Charlotte's Mecklenburg County. She says there are clear benefits to having a nursing or health-care workforce that is representative of the people it serves.
In a country with vast disparities in health and health outcomes for marginalized communities, having more health-care professionals in the workforce who share those perspectives "will improve the health of those populations and reduce the disparities that we see across the board," she says.
It also helps build trust and relationships between people and communities of color and health-care workers.
"It's got to be a relief for someone laying in that bed to say, 'Wow, you look like me and you'll understand," says Grace Buttriss, nursing program director for Northeastern's Charlotte campus.
Pope Mitchell hopes a partnership like this will open the doors for Black people and people of color to enter leadership positions in the health-care field and eventually serve as inspiration for generations to come. That's the only way to ensure change and that the pipeline of diverse talent is flowing in the right direction.
"It's exciting to know that with our partnership with Northeastern that we are placing students who are historically underrepresented in several areas into fields where they can go and not only provide excellent care to all but to serve as role models for those who are coming up behind them to say, 'I belong in this area as well,'" Pope Mitchell says.
Cody Mello-Klein is a Northeastern Global News reporter. Email him at [email protected]. Follow him on Twitter @Proelectioneer.